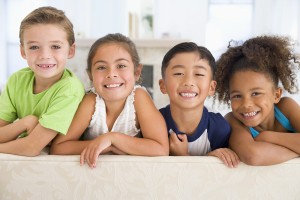 If you are looking for family dental care, we encourage you to schedule an appointment with our Sunnyvale, TX dental office. As a family dentist, we can provide you with tips for healthy teeth when you come in for a dental cleaning. In this way, we can keep your teeth and gums healthy while empowering you to make healthy choices at home. To schedule an appointment with our 75182 dentist office, call (972) 996-3191. At Stone Canyon Dental, we treat both children and adults and will work to keep your entire family in excellent oral health.
Here Are Tips For Healthy Teeth From a Family Dentist
#1 – Drink plenty of water
As a Sunnyvale family dentist, we encourage our patients to drink more water. Water is something that can actually help improve your oral health because it prevents dry mouth. This is a common condition that can become worse with age and by taking medication. The challenge is that when your mouth is dry, there is not enough saliva to wash away food particles, sugar, and plaque. This can increase the likelihood of developing tooth decay in addition to giving you bad breath. The simple answer is to drink plenty of water, and if that does not help, you should visit our dentist office for a dental cleaning every few months.
#2 – Avoid anything acidic.
Most people do not realize that what they eat and drink could be acidic and that acid is bad for their teeth. Even healthy things like lemons, limes, and oranges can begin to erode the enamel or protective layer of your teeth. At our 75182 dental office, we recommend that you take active steps to avoid eating and drinking things that are acidic and that if you must, you rinse your mouth immediately afterward. Things to avoid also include soda and fruit juice. Both are highly acidic, and soda is the worst because the acid levels are very near that of battery acid. That is why soda can unclog a drain, and if it does that to your pipes, imagine what it is doing to your teeth.
#3 – Brush and floss daily and correctly.
When you visit our family dentist office for a dental cleaning, we will take the time to show you how to properly brush and floss your teeth. As a Sunnyvale, TX family dentist, we recommend brushing your teeth twice a day for two minutes at a time, using a fluoride toothpaste. You should also floss at least once per day to prevent gum disease. The key is to make sure you go all the way around your teeth instead of stopping at the gum line. Otherwise, you could be leaving plaque in between your teeth and gums, which can lead to gum disease.
#4 – Visit our dentist office for a dental cleaning twice per year.
It is difficult to remove all the plaque by simply brushing at home. This is why you should visit our office twice a year for a dental cleaning. We can remove what has built up on your teeth so they can be healthy and strong while reducing the risk of decay or disease. This also allows us to treat conditions as they develop and before they lead to toothaches.
At Stone Canyon Dental, we can help your family stay in excellent oral health. To get started, call (972) 996-3191 and schedule an appointment.
---
---
Related Posts
April 15, 2019
Do you think you have a cavity and are looking for a family dentist to help? Having cavities is one of the most common health problems in the world, especially among children and teenagers. If …
---