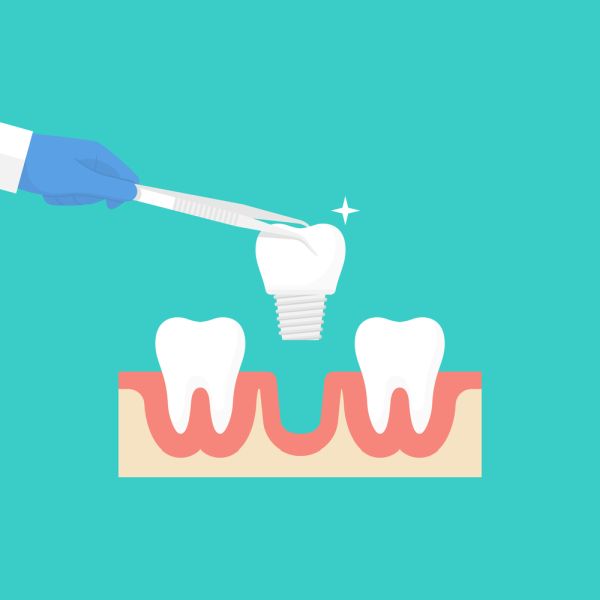 Considering All-on-4 dental implants is a great idea if you are missing most or all of your teeth. Your mouth was specifically designed to function with a full set of teeth. This means even if you are just missing one of your teeth you can expect to experience dental problems. When you are missing multiple or even all your teeth, your oral health is not only in jeopardy, but it also makes it difficult for you to perform your everyday and necessary functions, like eating and talking.
About All-on-4
Thinking All-on-4 dental implants is the right choice for you? Many dental patients who are missing teeth are choosing to have dental implants placed in their mouth to take the place of their missing teeth. A dental implant is surgically inserted into the jawbone, which allows it to act just like a natural tooth.
While dental implants are commonly used to replace one or two missing teeth, when multiple teeth are missing, there is the option to use All-on-4 dental implants as an anchor for dentures.
What exactly are dental implants?
A dental implant uses a tiny titanium screw to attach to the jawbone. Once this part of the implant has fully healed, the screw acts just like a natural tooth root. This means the jawbone in this area will once again receive the stimulation it needs to be healthy. An abutment is then attached to the screw, which allows for dental crown placement.
The end result is a new tooth that looks and acts just like a natural tooth.
Why use All-on-4 for dentures?
Why should a dental patient choose All-on-4 dental implants instead of getting traditional dentures? The main complaint denture wearers have when choosing traditional dentures is that they do not always stay securely in place. When dentures move and shift around, it can make it difficult for wearers to eat, talk and even smile. They worry that their dentures will fall out of their mouth at any given moment, making them very self-conscious.
When All-on-4 dental implants are chosen, the dentures are held securely in their place, which means no worries of them shifting, moving or falling out of the mouth.
Missing all upper or lower teeth
The All-on-4 process allows a dental patient to have all of their upper teeth, lower teeth or even both arches replaced with new teeth. Instead of having a dental implant placed in each missing tooth location, all one needs is four dental implants strategically placed in their mouth. This means that someone who is missing all of their upper teeth will only need to have four dental implants placed in their upper arch in order to receive a full set of upper teeth.
Are you missing all of your upper or lower teeth?
Missing multiple or all of your teeth? All-on-4 dental implants just may be the right option for you. In order for you to know for sure, you will need to make a dental appointment for more detailed information. It is necessary for you to replace your missing teeth as soon as possible. The longer you wait the more problems you will experience.
Ready to get started?
Request an appointment here: https://stonecanyondental.com or call Stone Canyon Dental at (972) 996-3191 for an appointment in our Sunnyvale office.
Check out what others are saying about our services on Yelp: Read our Yelp reviews.
---
Related Posts
August 18, 2019
Finding general dentists to provide regular dental care is crucial to remaining healthy. Not only can these providers help save the teeth from decay, but also overall oral health. Diagnosing potential issues in advance can …